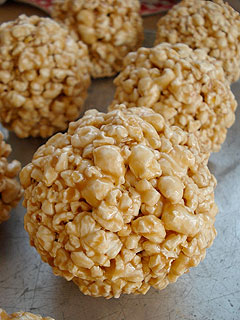 Popcornové guľky
zloženie
1 / 4 hrnčeka (polovica malého masla) cca 60g, /60g of butter
1 balenie marshmallows / 1 package of
marshmallows
1 / 4 šálky svetlo hnedý cukor / 1/4 cup light brown sugar
3 litre popcornu / 3
liters of popcorn
1 šálka sušených brusníc / dry
cranberries
10 ks karamelek / 10pc of soft caramel candy
inštrukcie
maslo rozpustíme vo veľkom hrnci pri nízkej teplote. Pridáme marshmallows a hnedý cukor a aj krowky ktoré sme rozlámali,alebo nastrúhali..ja používam tie sypké.a miešame, kým sa to neroztopí. Odstránime z tepla.
pridáme popcorn a brusnice.všetko poriadne premiešame . S maslovými rukami tvarujeme gule.necháme vychladnúť.
Melt butter in deep pot. Add marshmallows, brown sugar and caramel. Stir until all things melt. Remove from heat. Add popcorn and
cranberries. Mix well and make small balls.